For years I've been creating content and sharing my work (blogging, vlogging, and podcasting) online with my audience.
It's something I enjoy doing. It's also a core part of my marketing strategy. The reason it's a core part of my online marketing strategy is because it works.
But here's the thing.
It only works, if you put in the work.
Over the years, I've had countless conversations with entrepreneurs who say:
– I need to start blogging
– I need to start making videos
– I need to launch my podcast
And days and weeks and months go by and they still say the same thing. In some cases, a full year or more goes by and still no blog, no videos, and not a single podcast episode to show for it. 
Creating content is a powerful way of showing your expertise. It's one thing to say the words, "I'm an expert and here's what I do" but it's quite another thing to deliver a premium piece of content to your ideal client that demonstrates your expertise right in front of them.
And it's 10x more powerful when you can get your content published on a well-known and respected platform. This is something that I've learned first-hand from my coach, who showed me how to get published on big publications. 
So, if you're reading this right now and you still haven't created any content, or you haven't been consistent with your content creation then I only have one question for you…
What's holding you back?
You're clearly on social media because you're reading this right now. So, what's stopping you from creating content to share with your audience?
The digital world is giving you direct access to communicate and share your message with your fans. This is an opportunity for you to position yourself as a credible and recognized expert in your industry.
If you're not communicating with your audience and sharing your message, then you're wasting a valuable opportunity and blocking your own business growth. 
This is something I'm passionate about. I love helping people craft and deliver their message.
As I stated earlier, this is also something I do for myself and use it in my own marketing strategy.
Recently, I published an article with Business 2 Community. The article is titled, "You Can't Make a Difference Sitting in Silence" and talks about the importance of shifting from silence to stepping into the spotlight by sharing your expertise.
Currently, my article is listed on the HOME PAGE of Business2Community at the very top of the page. It's featured as a TOP ARTICLE in the promo reel.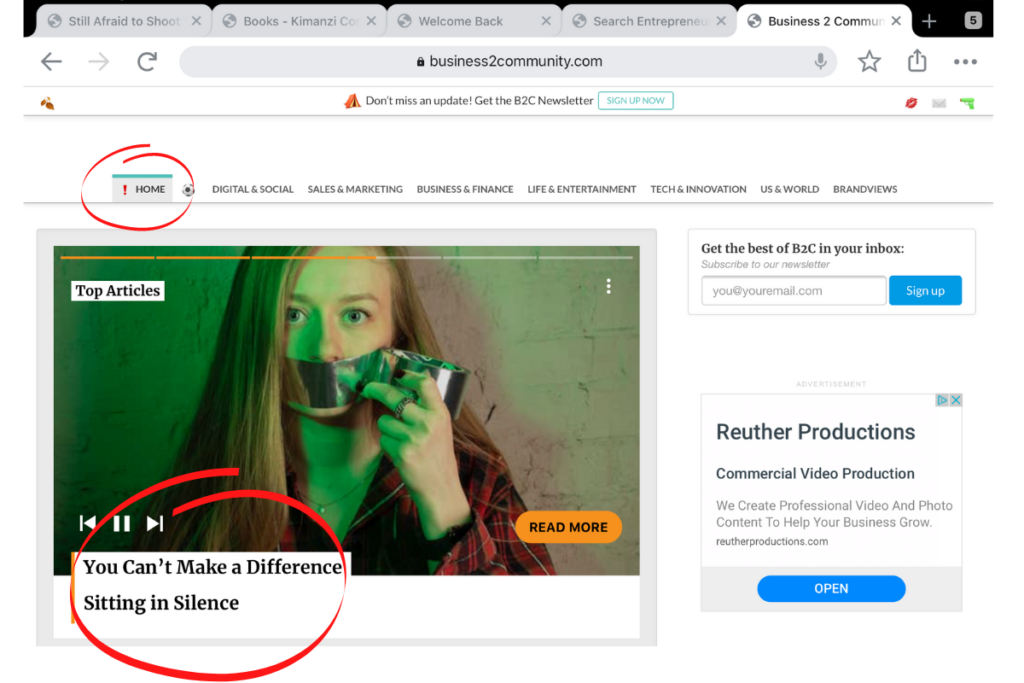 This article is also listed as #2 in the SALES & MARKETING column and #1 in the COMMUNICATIONS subcategory.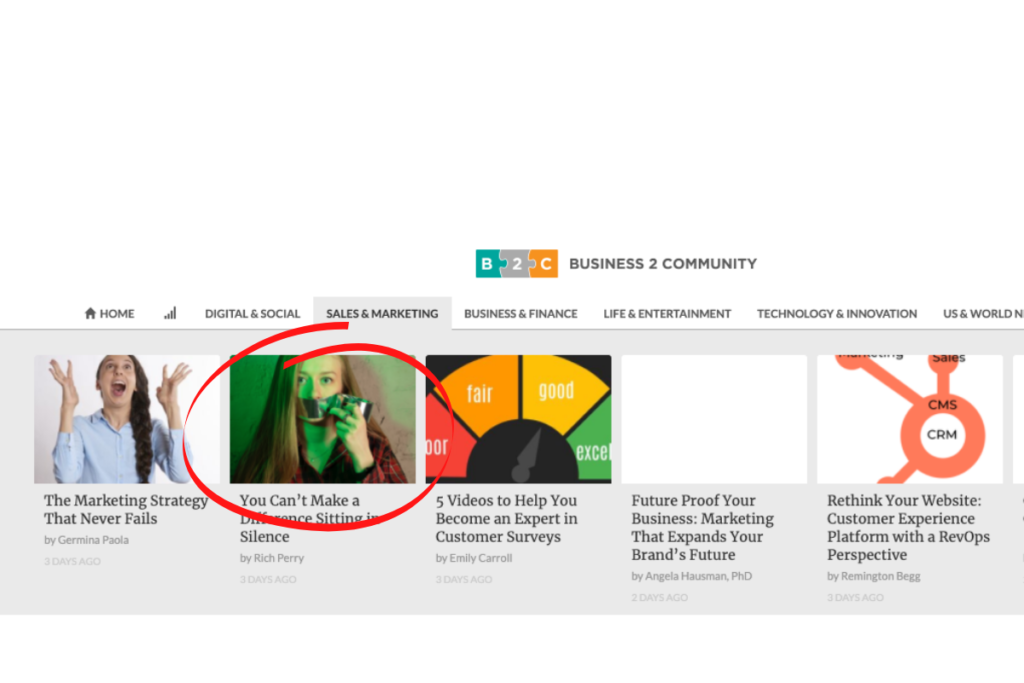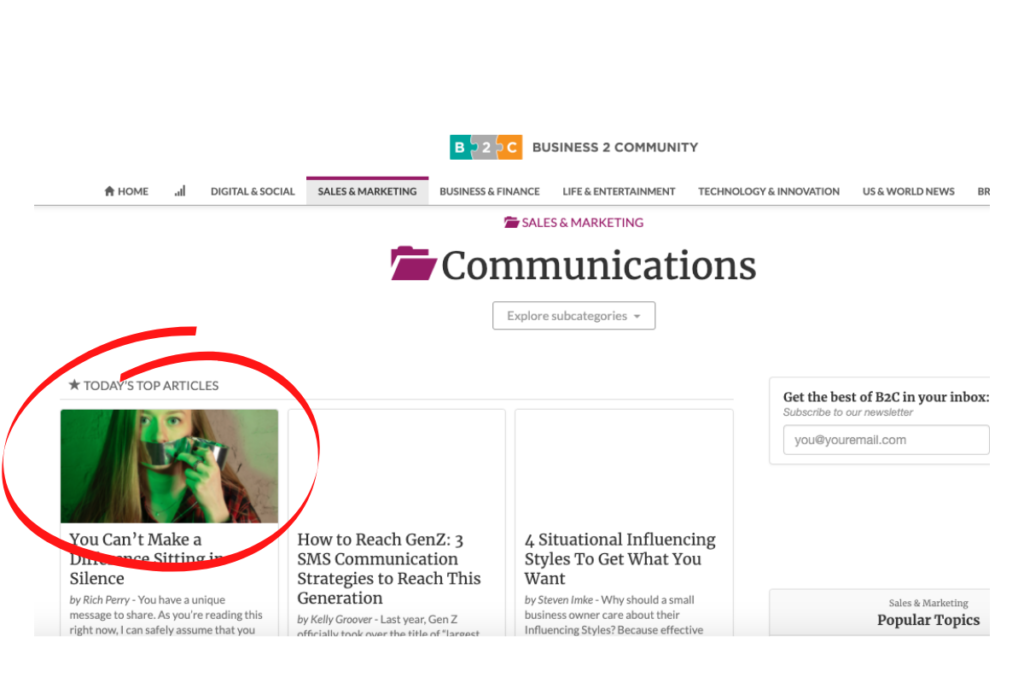 More than just having my article featured, I'm personally recognized as a MOST SHARED CONTRIBUTOR on their HOME PAGE. To date, I've only published 2 articles on this site while many other contributing writers have hundreds of articles. As of this writing, I am currently listed as #3 on the most shared contributors list.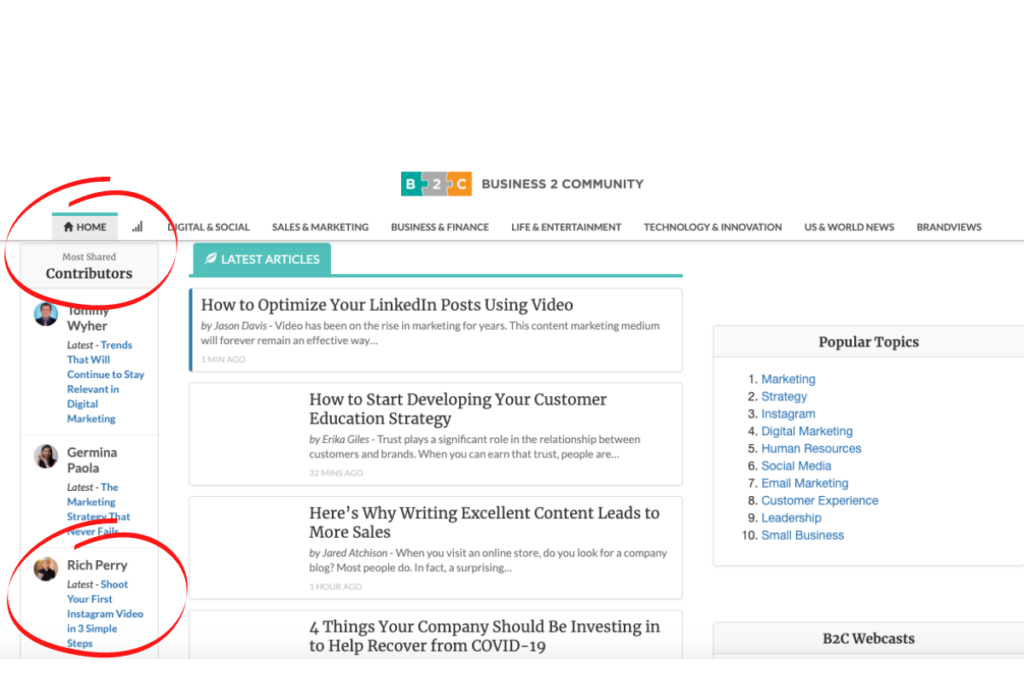 This isn't a fluke. It's strategy.
And the only reason I got there is because I took action. I shared my message. Not just once, but consistently. Every single day I share my content.
It works. 
It's worked for me and it can work for you too.
You just have to take action.
—-
Got a question about developing a better communication strategy to grow your business?
Let's talk.