Business Coach for Entrepreneurs and Business Leaders
My mission is: To educate, empower, and inspire people through clear communication and excellent leadership for the purpose of business growth and life advancement.
Trusted Leader, Business Coach, and Best-Selling Author
My name is Rich Perry. I co-authored Bankroll Your Mind – an International #1 Best Seller in multiple business, success, and leadership categories – along with a few other titles in the personal growth space. I also host the podcasts 10-Minute Mentor with Rich Perry and Daily Minute with Rich, which provide business coaching tips and insights for leadership development in short action-focused episodes.
As an entrepreneur, communicating a powerful message to connect with my audience on a deeper level is necessary for the continued success and prosperity of my business. Cultivating this relatable and authentic relationship with my audience is paramount, and it's one of the many ways I help my clients grow. I show my clients how to develop and deliver a meaningful message, build brand loyalty by creating stronger customer relationships, and design a winning system to maximize growth.
When entrepreneurs and business leaders understand and practice the right business communication strategy, it positively impacts their bottom line.
The right message – properly communicated – will help your business grow exponentially.
That's one of the many ways I can help you.
With over 20 years of experience, I can help you improve every aspect of how you craft and deliver your message. This includes improving internal communications (between your executive team, employees, and other stakeholders), external communications (distributed to customers, collaborators, and outside vendors), and all other communications that are important to the success and longevity of your company.
I can also help you optimize existing messaging channels and discover the gaps and blocks that are currently holding you back.
If you're ready to take your company to the next level, then contact me to discuss business coaching services that are right for you.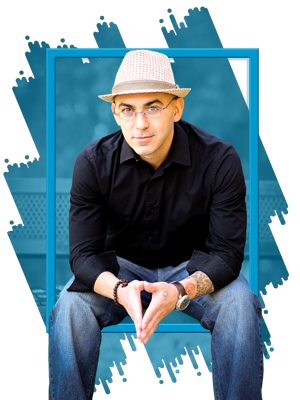 Business Coaching for People Who Want to Make a Difference in the World
Growing up in the unhappiest place in America defined my life's work.
Yes, you read that correctly. It wasn't written as a hyperbolic statement. In 2014 a major university study found my geographic area to be the "least happy region in America." I wrote about this in my e-book, Finding Purpose in the Unhappiest Place in America, so I'll skip the details here but let's just say that it made for an interesting childhood and coming of age experience. Moving from Queens, New York to a small rural town in Pennsylvania as a young child provided a thought-provoking and insightful learning opportunity that helped shape the person I am today.
I've always been eager to help others. Growing up I was active in Boy Scouts and other community groups, which is where I first became a student to the ideals of leadership and matured to understand the value of service to others. It was here, working towards the coveted Eagle Scout award and training for the degree of Black Belt in Martial Arts that I realized the importance of proper goal setting, steadfast commitment, and maintaining clear communication between teammates to ensure success.
Let me ask you this: Have you ever had people laugh at your dreams?
People laughed at my dreams a lot and I was told to get my head out of the clouds when I tried to talk about certain ideas, but I didn't let that stop me. Throughout life, I had to fight to be heard – battling naysayers, doubters, and haters who tried to hold me back from achieving my goals. Despite the pushback, I believed in myself, my message, and my purpose in life to empower others. I found help from amazing mentors, collaborated and surrounded myself with like-minded people, and advanced through self-education. I remained focused and kept moving forward to connect with more people, communicate ideas properly, and make a bigger impact in the world.
As an entrepreneur or business leader, you have no doubt experienced something similar. Being the person in charge means you're in the spotlight and subject to severe criticism, ridicule, and doubt from those we had hoped would be our biggest supporters. This can be a harsh reality for any entrepreneur or leader, even one with the best intentions for those they serve. We put ourselves out there to share ideas, services, and products which means we are open and vulnerable for judgement.
If you've ever had your ideas or products criticized or ridiculed simply because the person didn't understand their true value, then you already understand the importance of having a well-defined message and supporting information to provide clarity and address customer concerns. In your experience, you've probably also come to realize and appreciate the value of having a trusted mentor or business coach to offer fresh perspective and help solve costly problems that surface.
Working with me means you'll get to tap into over 20 years of experience leading unified teams, implementing marketing strategy and branding, and organizing popular community events and seminars. The respective success of all of these depended heavily on the communication of a clearly defined message to move in the right direction. It also relied on unwavering belief and perseverance to reach the intended goal.
I believe we all have a story that defines us and a meaningful message to share. It's why I do, what I do.
This is why I want to help you craft a powerful communication strategy that builds trust with your audience and creates happy lifelong customers.
When we work together, you'll get world-class business coaching to improve your communication strategy.
79% of all small business owners report not receiving proper support along the way.
– National.Biz
Don't allow your business to become just another statistic.
You've worked too hard to let that happen.
Get the support and coaching your business needs to thrive.